Tennis Tips

Welcome to Pro Tennis Tips.
I am here to give you some basic, but crucial tips and tricks that will make a dramatic difference to your tennis game.
These tennis tips have been taught to me by top tennis professionals and I guarantee will help make you a better tennis player.
Your first FREE TENNIS TIP is below!
Below are the professional tennis players who have taught me simple tricks and techniques that have improved my game dramatically. 
Tennis Tips from these professional players;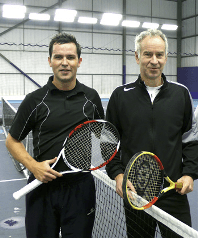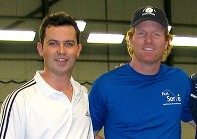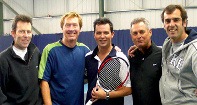 John McEnroe
Jim Courier
Thomas Muster
Henri Leconte
Anders Jarryd
Carl-Uwe Steeb
Roger Taylor
Mikeal Pernfors
Tom Gulikson
Jeremy Bates
Mansour Bahrami
Wayne Ferreira
Greg Rusedski
Danny Sapsford
Lee Childs
James Aukland
Peter McNamara
Luke Jensen
Murphy Jensen
Chris Wilkinson
Vernon Lewis
Mark Woodforde
Cedric Pioline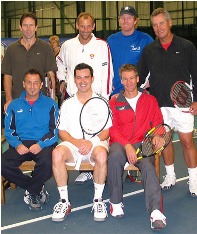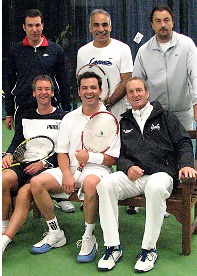 Register here to receive notification for the release of
'Pro Tennis Tips Guide'. 

I learnt this from John McEnroe and it has served me well every time I struggle with my service.
It is so simple, "…keep your head up"
Look at this first sequence of a typical service motion. This first example illustrates the sequence of how most club players will hit a tennis serve.
Notice how the head drops at the moment of contact with the racket and ball.


This second example below illustrates how you must keep your head up through the complete service motion. Fixing your eyes on the tennis ball right up until the moment that the racket strings make contact with the ball.
This is essential for maintaining control, direction and consistency. The next time you are on the tennis court, really try and focus on this every time you hit a tennis serve. It is easy to let your mind stray with all the other aspects of your service motion, but this is the fundamental basic of a good and reliable tennis service.

Register here to receive notification for the release of
'Pro Tennis Tips Guide'. 
Pro tennis tips brought to you by Jason Saunders at Aspect Sports
All Rights Reserved – Aspect Sports 2017